Premium Materials & Craftsmanship
Ethically Produced
at half the cost of traditional retail
Premium Materials & Craftsmanship
Ethically Produced
at half the cost of traditional retail
We don't believe in cutting corners on labor and materials to maximize profits
Cutting corners on materials and labor costs may save us money in the short term but at a high cost to the world. The true cost of fast fashion often means using cheap synthetic materials that pollute the environment, while being manufactured by laborers making less than a living wage in often poor conditions. As we are committed to doing what is best for laborers, the environment and future generations, we refuse to compromise on our selection of materials and place of manufacturing.
Each material we have selected for our bags was thoughtfully considered to ensure it has the least possible impact on the planet as well as being as high quality and durable as possible.  
We also chose to have our bags produced in Europe in a small factory where everyone is paid a fair wage. It is considerably more expensive than it would be in other areas of the world where there is less regulation, but we decided this was not something we wanted to compromise on.
This all means that our costs on materials and labor to produce a bag are considerably higher than a bag mass produced in the fast fashion way, and important to keep in mind when understanding our pricing.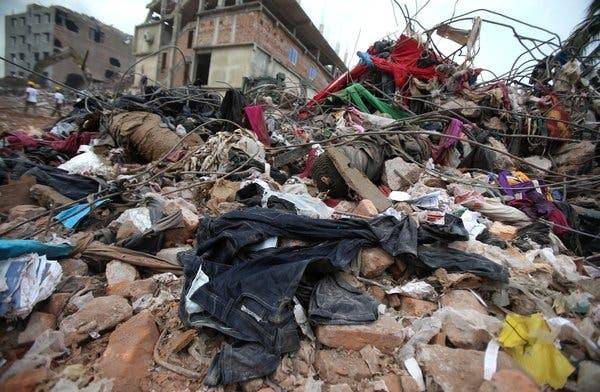 We are proud to be able to offer you premium quality & craftmanship, produced in an ethical way, at half the cost of traditional retail
On average, traditional retailers mark their products up 5–6x the cost of labor and materials. This is because they often use distributors and resellers who then sell to the end customer who also need to make a profit. We are a direct to consumer brand, which means by removing the middleman and selling directly to you we can cut the price in half.  
We want to be transparent in our prices, so the following are two charts that clearly show you our costs on materials and labor and our markup compared to traditional retail.  
Transparent Pricing of our Tote Backpack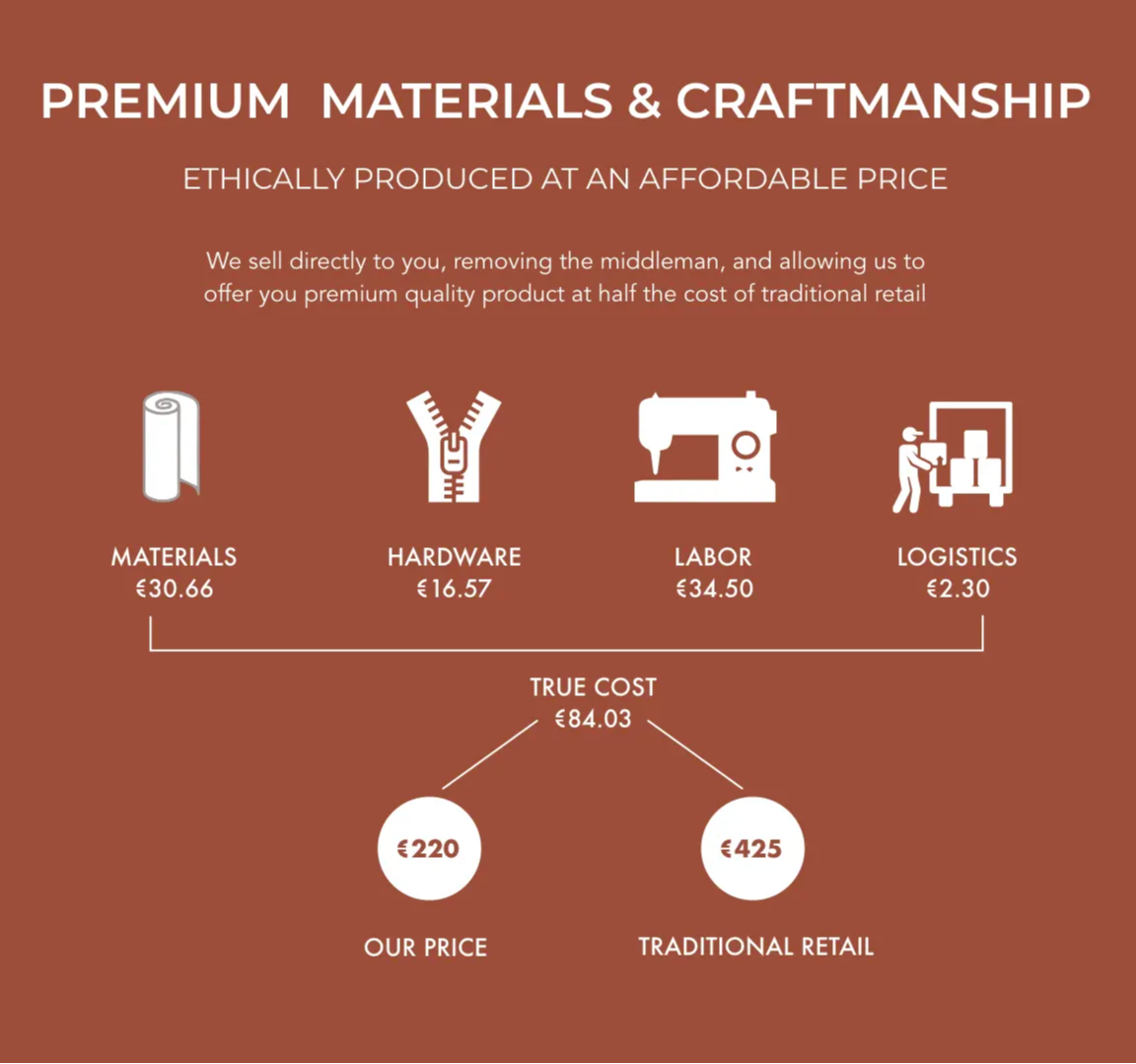 Transparent Pricing of our Waist Bag
Transparent Pricing of our Tote Backpack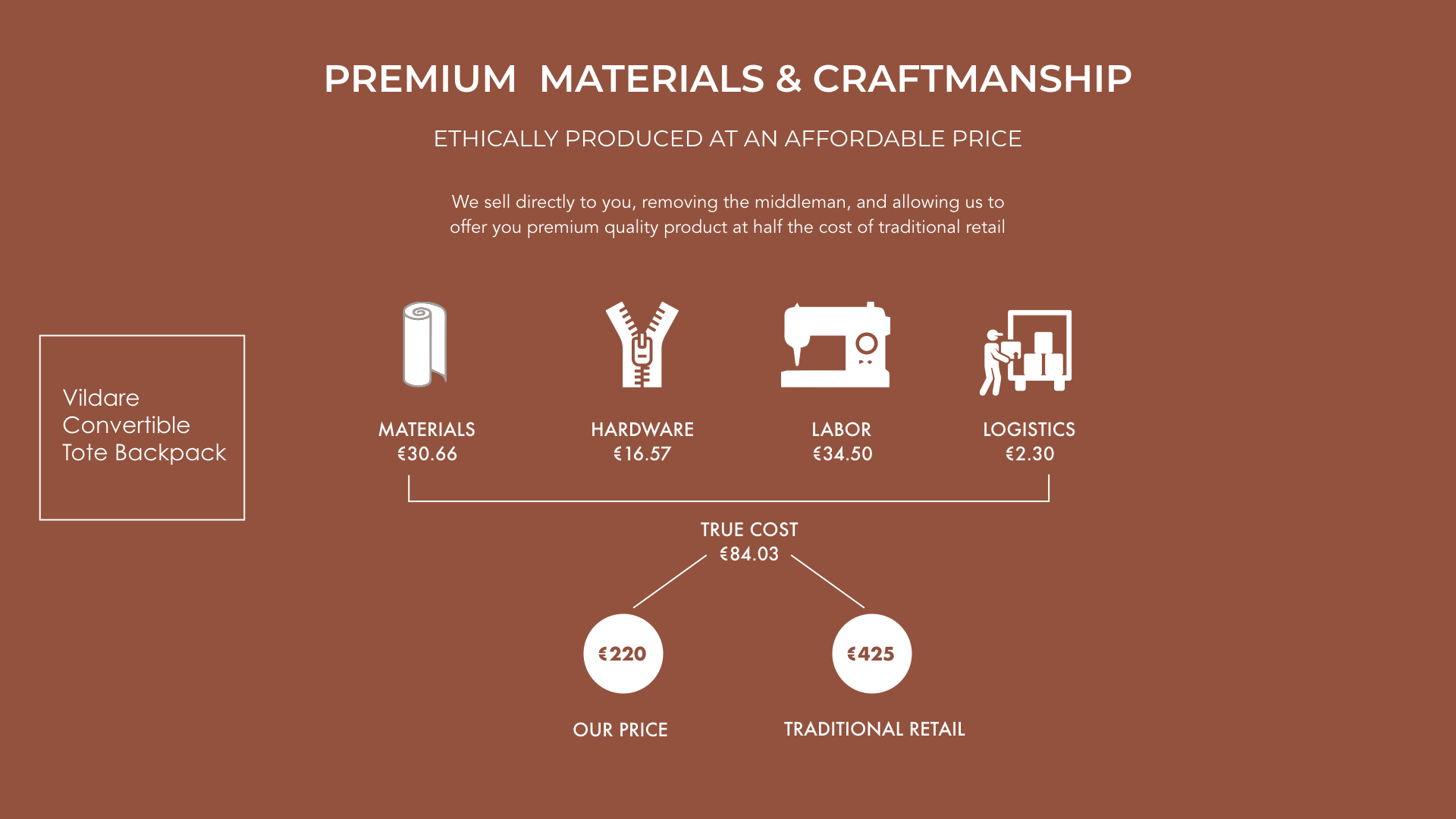 Transparent Pricing of our Waist Bag